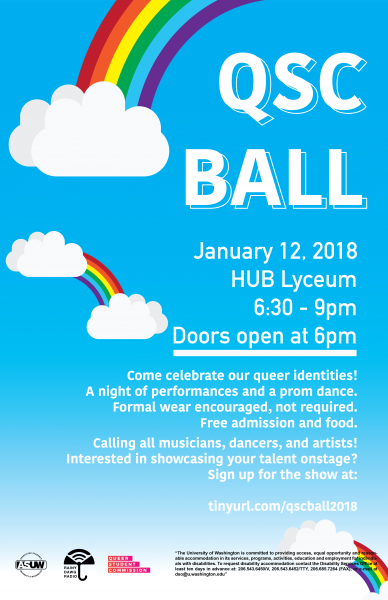 The QSC Ball Is BACK! Come celebrate with us on January 12!
We're happy to finally announce the QSC Ball, our annual queer party to kick in the new year. Expect a night of amazing queer performers, a queer prom dance, free food, a rainbow photobooth, and music from Rainy Dawg Radio. While semi-formal wear is encouraged, it is absolutely not required. Bring someone to come with too – or come to meet new people!
The event will take place on January 12, 2018 in the HUB Lyceum. Doors open at 6:00, and the event runs from 6:30 to 9:00 pm. The event is free admission.
More information on the Facebook page. Make sure to hit that 'Going' button, and invite your friends! We'll see you there!
Welcome!
The Queer Student Commission aims to bring equity and justice for queer students on campus. As part of the Associated Students of the University of Washington, we bring queer-focused programs, events, and services throughout the school year.