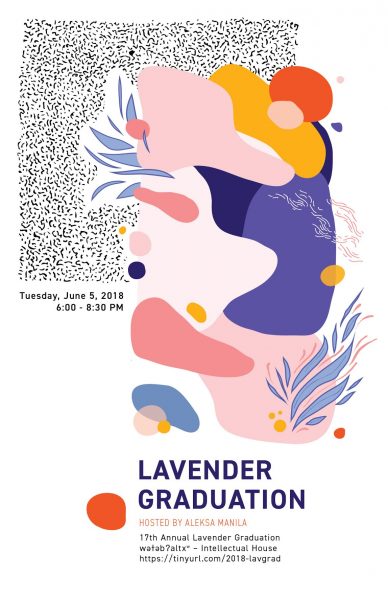 See you at the 2018 Lavender Graduation! 
Who: Lavender Graduation is open to any student eligible, at any level (undergraduate or​ ​graduate/professional) for graduation in the 2​01​​7​-201​​8​ (including fall 201​8​)​​ ​academic year. Everyone is welcome!
What: The best party on the UW campus, of course.
When: Tuesday, June​ ​​​5th​, from 6 – 8:30 pm. Graduates, please arrive by no later than 5:15 PM.
Where: wǝɫǝbʔaltxʷ – Intellectual House (4249 Whitman Court) on the UW campus.
​Why: The Q Center and the Queer Student Commission are hosting Lavender Graduation as a time for the UW queer, trans, two-spirit, and ​allied ​communities to come together and celebrate our multiple identities and accomplishments. See you there!
How: If you're graduating, please register here by May​ 25​​th. If you're interested in volunteering, register here!
As for attire, participants and guests can wear whatever they want. If you want to dress up, or down, go for it. ​If you wish to wear cultural regalia, please do. ​You want to be comfy, have at it. This is your night! For more info, contact qcenter@uw.edu or asuwqsc@uw.edu.
About
The Queer Student Commission aims to bring equity and justice for queer and trans students on campus. As part of the Associated Students of the University of Washington, we bring queer-focused programs, events, and services throughout the school year. 
Sign up to be a freelance volunteer
Visit the QSC in office